To achieve a perfect end result here are the top natural stone guidelines to understand your product better and to be informed.
What you need to know and do BEFORE, DURING and AFTER the natural stone tiling process:
PRIOR TO LAYING ANY STONE TILES, THE HOMEOWNER, BUILDER OR TILER MUST: 
Inspect the stone tiles for any defects.
Check that the tiles delivered to the site are the correct quantity, colour, shade and size. Please note: Variation in colour, veining and appearance are inherent characteristics of natural stone and may occur in materials supplied.
Check that the shade is consistent throughout the batch delivered.
Ensure that there are enough tiles on site for the project. If not order more from the same batch before work commences.
If the stone is designated for use on polypads/pedestals, please conduct own assessment using appropriate spacers to sides and the centre of tiles to ensure adequate support.
STS STONE strongly recommends that only experienced tilers/stonemasons lay natural stone. Inexperience with natural stone can result in damage to the material.
---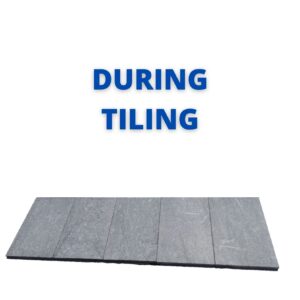 DURING TILING
We suggest mixing tiles from several boxes to ensure blending of any inherent shade variation.
All natural stone must be laid using specialised stone adhesives. Products not made for natural stone installation will affect the resulting finish. Always clean any adhesive, grout and wax from the surface area of stone.
Adhesives/sand or cement with salt content will react with some natural stone and should not be used for stone applications.
Natural Stone should not be cleaned with acid or acid based industrial cleaners.
During the laying process, adhesives and grout must be cleaned off the stone immediately and at all times.
---
AFTER TILING
Natural stone is porous and sealing it is a vital part of the installation process.
All stone products must be sealed using appropriate sealants.
General sealing guidelines:
INDOORS: Lay, grout, scrub clean and seal twice.
OUTDOORS: Lay, seal, grout, scrub clean and seal again.
Please note stone should be covered as much as possible before and/or after sealing to prevent dirt and damage until building activity ceases.
It is essential that sealers are applied correctly.
Different natural stones require different sealers, with some natural stones also requiring pre-sealing. Please check with us first if your stone requires this.
We recommend and supply various 'Lithofin Stain Stop' sealers & pre-sealers, depending on the stone and its application. From solvent to water-based, we will gladly advise what's better to use for your chosen stone.
Re-sealing: Sealers may last for many years. However, depending on surface usage and traffic, we suggest close inspection of the natural stone every 3-5 years to check if resealing is required.
---
STONE MAINTENANCE: Natural stone doesn't require a lot of upkeep and sealing will help prevent stains however here are some general recommendations:
Cleaning:  Only use a mild cleanser as harsh chemical cleansers can eventually breakdown the sealer.
Acids and Natural Stone: Products such as wine, fruit and fruit juice, milk (lactic acid), coffee and teas, household cleaners, dishwasher powder, laundry powders ALL contain either natural acids or harsh chemicals that will eat away at natural stone and  the sealers that are used to protect them. Whenever spills occur – wipe them up. If any product that contains acid or harsh chemicals is left on a sealed natural stone it will eventually eat away at the sealer and affect the stone. Always use coasters under glasses to prevent unseen spills from remaining on the stone. As long as you follow these simple steps your natural stone will stay looking beautiful for years.
Protecting from heat. Never place a hot dish directly from an oven onto the natural stone – always use protective mats or trivets. This also protects the stone from chipping that could occur.
STAIN REMOVAL: For stain removal obviously the first step is to identify the stain. Here are some handy do's and don'ts:
DO Wipe up spill immediately
DO Try to identify what caused the stain

DO

 Use a mild detergent or soap first to try and remove the stain
DO Call for professional advice if you are not sure what to do

DON'T

 Use vinegar, lemon juice or other acid based cleaners on natural stone. Be aware of "Natural" and "Organic" products – always read the labels.
DON'T Use cleaners that contain acid. Read product labels carefully of any bathroom or grout cleaners
DON'T Use abrasive cleaners or scourer pads or household grade steel
DON'T Ever mix chemicals together. Some combinations could create a toxic gas.