With the exclusive Darling Point location and striking views overlooking Sydney Harbour, this one of a kind house is taking full advantage of its surroundings. The duplex is divided into one 3-level apartment and one single level apartment, all planned and built with special attention to details. The design brief includes a specific request "Nothing straight, Nothing square, Nothing off the shelf" and it snows in every corner of this house.
STS Stone Travertine Grigio Chiaro and Terrazzo were used through the apartments and the outdoors areas. Creating a seamless flow between the different area of the house and from the outdoor in. That complemented the off-form concrete ceilings, sliding doors recessed into the walls and custom-built elements throughout are housed. The unique roof structures complete the story of this special house. Resulting in a contemporary look and unique house.
Architecture  MCK Architects
Builders  Horizon
Photography Brett Boardman
Travertine Grigio Chiaro was used through the interior and exterior spaces of the house, including the staircase, living room and balconies. Its soft uniform grey colour with different finishes makes it a great fit for indoor-outdoor transitions.
The Terrazzo was used in the bedrooms and bathrooms opening up to the balcony. The usages of the Terrazzo on the floors as well as on the walls, contribute to the unique look of the space and flow between the different areas. Creating a contemporary and innovative look continuing throughout the house.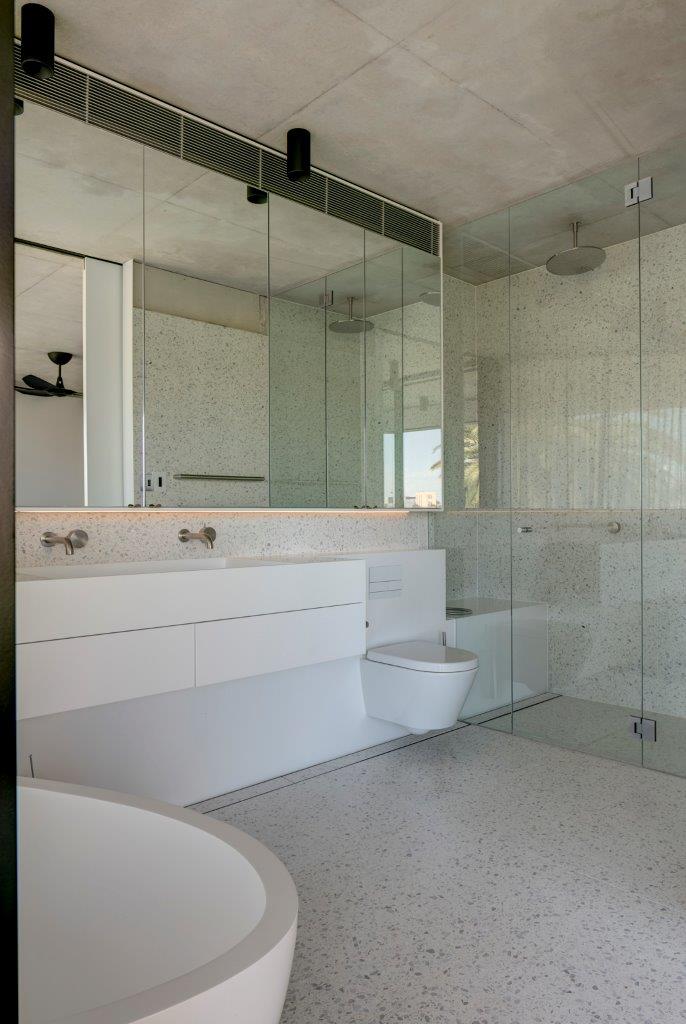 ---